OUR SERVICES
TOY DRIVE FOR NEEDY CHILDREN
DONATIONS TO YOUTH EDUCATION

DONATIONS TO VARIOUS CHARITIES

NORTH EAST MOTOR SPORTS MUSEUM HOLDS HISTORIC AUTO EXPOSITION

10:00 A.M. - 3:00 P.M.
LOCATION NORTH EAST MOTOR SPORTS MUSEUM
922 NH RT 106
N. LOUDON, NH
On the grounds of the New Hampshire Motor Speedway
The first Historic Auto Exposition will be held to all who wish to show their racecars
for the public. All vintage race cars owners are invited at no charge to come and be part of
this show. If interested please contact:
Tom Netishen
Phone # 603 783 0183
STAR HOLDS 20TH YEAR ANNUAL BANQUET

STAR CLOSES THEIR 20TH YEAR WITH ANNUAL BANQUET
On November 10th the Senior Tour Auto Racers closed their 2018 racing season with their 20th Annual banquet. This is STAR'S 20th season and it was great to see the members gathering together to close out the season in a fashionable way. It was great to see members from all over New England and Canada attending to bring the season to a close.
The banquet was held at Whites of Westport in Westport, Ma. Over 60 awards were presented to the Star Members for their dedication and true support of this great club. It has been an outstanding season for the Star Organization with unbelievable car counts every weekend. Star tours every weekend to the New England tracks to bring "Vintage Racing at its Best". As members sat down to a four coarse meal, they were entertained with a slide show of over 500 candid photos from all the tracks and shows for the 2018 season, photos never seen by the members. You could hear the laughter and jokes as the members let down their hair to have a great time!
STAR opened up its banquet with the introduction of the Officers and Board of Directors
Now it was time for the awards presentations.
APPRECIATION AWARDS
To the following two gentlemen for all their great photos of the STAR cars.
Ed St Germain
David Moulthrop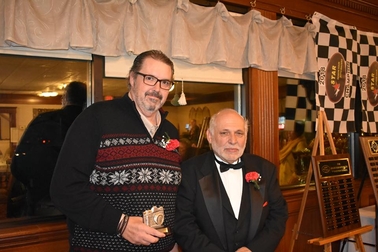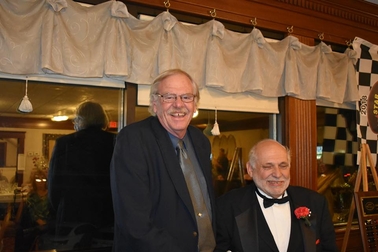 STAR'S TOY DRIVE AWARD
Tammy Barboza
ROOKIE OF THE YEAR
Dewight Pickard
MOST IMPROVED DRIVER
Curt Snow
FACEBOOK MOST POPULAR CAR PICTURE
Alan Zemla Car #43
Outstanding Leadership Award
Mary Lima
Charlie Lima - Modified Champion - Car 2X
Arthur Merchant - Sportsmen Champion - Car 64
Dewight Pickard - Modified Champion - Car 16ME
Curt Snow - Sportsmen Champion - Car 110
Skip Stearns - Sportsmen Champion - Car 7X
WINNERS
Feature Winner - $500.00 John Daniels Massachusetts
Heat Winner - $200.00 Frank Foley Massachusetts
Consi Winner - $100.00 Erik Hennessey Massachusetts
STAR would like to thank all the members who brought raffles for our raffle tables. There was
a hugh selection for both ladies and men. STAR would like to thank Tammy Barboza, Lana Stearns,
and Ann Turner for taking on the job of selling raffle tickets. Also thank you to Skip Stearns, Lana
Stearns, Tammy Barboza and Ann Turner for taking on the job of distributing out the raffles.
So another year has ended and it is time to look forward to 2019!
Photo Album Gallery Place Holder - Please wait while the Photo Album loads. If the album does not show, please refresh the page to try again.