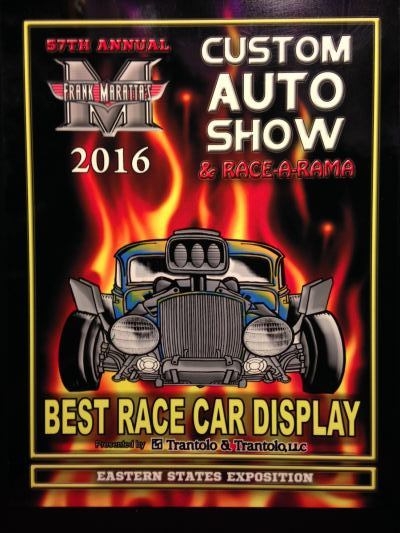 STAR TAKES DOWN BEST RACE CAR AWARD
2016 FRANK MARATTA AUTO & RACE-A-RAMA SHOW
February 26th 27th and 28th
EASTERN STATES EXPOSITION
West Springfield, Ma
Senior Tour Auto Racers opened up their 2016 season at the 57th Annual Frank Maratta Custom Auto Show & Racearama, on February 26th through 28th at the Eastern States Exposition Center in West Springfield, Ma. STAR opened up the 2016 season in class and style as they displayed "Puttin on the Ritz". Black Top Hats, tuxedos and a champagne fountain made the STAR's booth an eye stopper.
On hand displaying their beautiful racecars was Rick MacDowell from Ma with his newly restored "Sweet Emotions" a Red Chevy Camero straight out of the paint room.
Also displaying his racecar was Darryl Dutch from RI with his #6 Ford Pinto, which was voted "Best Appearing Car" for STAR for 2015. STAR would like to thank Rick MacDowell and Darryl Dutch for making STAR's display complete. STAR would also like to thank Curt Snow from Ma, a late entry for putting his newly bought #110 coupe on display in the STAR group.
It was a very busy weekend for the STAR members. Many memberships were passed out and new members signing up. It was great to see so many STAR members stop by and spend time with us all weekend. It was nice to see them gathering together having a good time as they discussed the upcoming season.
STAR would also like to thank Seekonk Speedway, Monadnock Speedway and Lee USA Speedway for their donation of free passes to the races for the 2016 season. STAR raffled off tickets all weekend and the fans were so happy when they won. Thank You Again!
It was a fun weekend and a lot going on, especially when the Strom Troopers, Darth Vader and R2D2 showed up in the STAR booth. We had so much fun with them and it was so great to see the fans join in with us to have a great time with the Star War Characters.
Finally to end a perfect weekend, STAR was presented with the "Best Race Car Display Award". Accepting the award on behalf of STAR was Race Director Mary Lima. "So if this is what our season will be like for 2016, bring it on" says Mary, "you could not ask for better"!
STAR would like to thank all the members who came to help set up the display and all the members who came to help tear down. STAR would like to thank Board of Director Ed Mulligan and Deanna Mulligan and Kevin McCarthy for staying all weekend with us to help out in the booth and thank you to STAR's President Charlie Lima for all his support and making the weekend a total success!
Photo Album Gallery Place Holder - Please wait while the Photo Album loads. If the album does not show, please refresh the page to try again.